52 DAY MIRACLE (Book) by Peter C. Spencer
The true story of the fastest growing church in the world.
"If only half of us were one-tenth as skilled at oratory..." 
- The Washington Post on Peter C. Spencer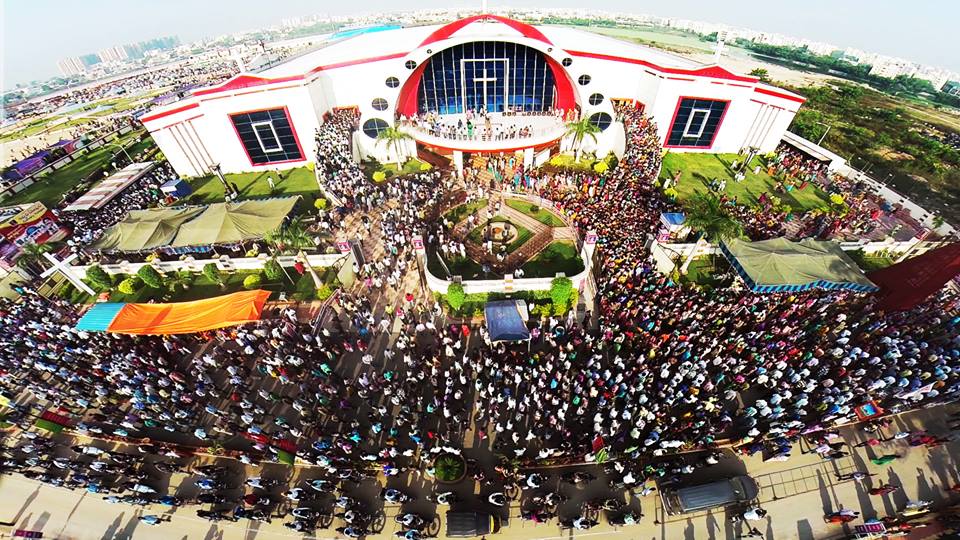 52 Day Miracle includes a HOW TO SECTION for Christian pastors in the pages after the full story of Calvary Temple's miracle construction and forward by Rick Warren.
PLUS: over 20 pages of exclusive, full-color photographs of the church's construction, ministries, & miraculous crusades!
The fastest growing church in the world today is in India. Calvary Temple Church in Hyderabad runs five services each Sunday for over 160,000 parishioners. With a hyper-organized cardswipe system, five gallon vats to feed the hungry each week, an orphanage, onsite pharmacy, private ambulances, and a dropbox system to organize the questions of staff questions, this church has found an explosive combination of New Testament principles with 21st century systems. The Christian revival is now, and it thunders in from the east - you don't want to miss it.
SEE THE LIMITED TIME PRE-ORDER PRICE BELOW!
The main campus, a stunning compound, was also built miraculously in 52 days - in spite of threats of destruction and death! With a forward by Rick Warren, this book tells the story of Pastor Satish Kumar's life and the miracles he encountered - including the building of his church. This first-time-ever book also includes the powerful how-to of the church's structure. You must get ahold of the book 52 Day Miracle!
"Let this book motivate you to believe God for more than you ever have!"
- Rick Warren, Author - The Purpose Driven Life, Pastor - Saddleback Church
The wind blowing across India can fan the embers still burning in America. Prayerfully, the West will not underestimate the value of revival in India in these perilous times for Christianity in the East and the Middle East.
It's NOW or NEVER for the West! Growth is no longer a luxury - but a necessity.
A church that's not growing...is dying. This first-century revolution is sparking a 21st-century revival!
- Peter C. Spencer, Author - 52 Day Miracle
Through testimony and eye witness accounts, Dr. Peter Spencer weaves the real-life narrative of Dr. Satish Kumar, pastor and founder of Calvary Temple church in Hyderabad, India - the fastest growing church in the world. A close friend and minister with Dr. Kumar for almost a decade and a half, Dr. Spencer uses his skilled writing style to craft vivid imagery and capture the pace of Calvary Temple's lightening-fast growth and action-packed history, drawing the reader into the riveting story of how God is using India's miracle church to awaken revival.
"I was Born in a strong Hindu family. My father and forefathers worshipped Numerous Gods and Goddess in India, But Miraculously, Christ came in to My life when I was twelve.  And I began preaching Christ crucified when I was eighteen and Founded calvary mission when I was twenty-one...Now, Calvary Temple has grown to over 160,000 members on one campus in just twelve years. In the past four years alone, over 100,000 new people were added to the church. This supernatural growth has made Calvary Temple the fastest growing and third largest church in the world."
- Dr. Satish Kumar, Founder and Pastor, Calvary Temple - Hyderabad, India